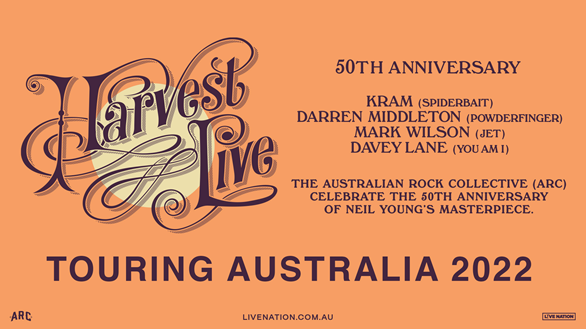 COVID SAFE PRACTICES
MASKS ARE MANDATORY: for this event. Please bring your own cloth mask to help reduce waste
ALLOCATED SEATING: patrons must remain seated at their seat for the duration of the event unless using the venue facilities e.g. bar, toilets.
SOCIAL GROUPS: Patrons are requested to arrive and depart in their social groups where possible.
CLOAKROOM UNAVAILABLE. Bags larger than A3 and backpacks will not be admitted into the venue
NO PASSOUTS under any circumstances
CHECK_IN Thebarton Theatre has an issued COVID-19 QR code for its location. Each person visiting the venue must check-in using the QR Code or paper attendance record regardless of relation. Each patron is asked to display the 'Last Check In' screen upon entry, or sign the paper-based register.
 
NEIL YOUNG'S HARVEST LIVE – 50TH ANNIVERSARY
NEIL YOUNG'S "HARVEST" LIVE 50TH ANNIVERSARY TOUR
WITH ARC – KRAM (SPIDERBAIT) / DARREN MIDDLETON (POWDERFINGER)
MARK WILSON (JET) / DAVEY LANE (YOU AM I)

Live Nation is pleased to announce an extensive tour by the AUSTRALIAN ROCK COLLECTIVE (ARC) presenting Neil Young's masterpiece, "Harvest," live in concert in celebration of its 50th anniversary.

This follows ARC's two sold-out and critically acclaimed tours of The Beatles "Abbey Road" in 2019 when the band presented The Beatles masterpiece with forensic detail to rapturous applause every night.

In February 1972, Neil Young released what would become his most successful record. "Harvest" was his fourth studio album and followed on from the brilliant "After the Gold Rush" becoming the biggest selling album of 1972, giving Neil Young his first #1 album and single with 'Heart of Gold'.

As well as 'Heart of Gold', the album includes a slew of Young's classics including 'Old Man', 'Alabama', 'A Man Needs a Maid', 'Words' and the beautiful 'The Needle and the Damage Done' written for his friend and bandmate Danny Whitten who would later tragically die of an overdose.

ARC will be presenting "Harvest" in its entirety before the returning to the stage in the second half of the night to present a selection of Neil Young classics from the career of one of rock music's true masters.


"Harvest" – the album
"Harvest is the album that came to define Americana – literally where rock and roll goes to Nashville." Classic Rock

"He had "a bad back" and "didn't know what else to do". But as a result, Neil Young created an album of simple low-key tunes that defined folky rockin' and 'home recording', and continues to reap rewards 50 years later." Guitar.com


ARC
"The musos on stage do something The Beatles never managed: play the album (and more) authentically, brilliantly, and with obvious respect and love." Tone Deaf
"Some of Australia's best musicians playing some of the greatest songs of all time." The Music
EVENT INFO
Saturday 5 February 2022
Doors 6:30pm Show 7:30pm

Covid Safe Event
All Ages
This event is all ages. All patrons must hold a ticket regardless of age. It is recommended that patrons 15 years of age and under are accompanied by a paying Adult.
Wheelchair/Accessible Seating/Companion Card
For all enquiries please contact the Box Office on
Ph. (08) 8443 5255.
OFFICIAL TICKETS SOLD THROUGH TICKETMASTER ONLY