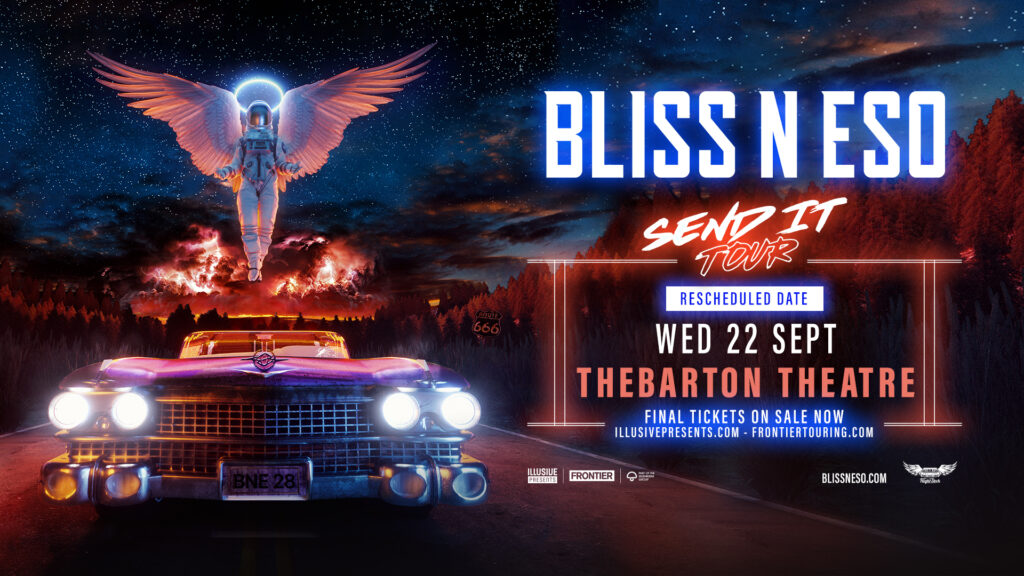 Covid-Safe Practices at Bliss N Eso
The following are mandatory Covid-Safe practices as directed by SA Health:
◽️ ALLOCATED SEATING: Patrons must remain at their allocated seat for the duration of the event unless using the venue facilities e.g. bar, toilets
◽️ SOCIAL GROUPS: Patrons are requested to arrive and depart in their social groups where possible.
◽️ CLOAKROOM will be unavailable. Bags larger than A3 and backpacks will not be admitted into the venue
◽️ NO PASSOUTS under any circumstances
◽️3 ENTRY POINTS are accessible via the Main Doors, Thebby Lane and the East Bar. See venue map here.
◽️ Only attend the event if you are feeling well. Please complete the Covid Symptom Checker here.

Please see our Terms & Conditions of Entry before attending Thebarton Theatre.
About Bliss N Eso
The band are psyched to be returning with live shows:
"This is by far the longest break we've had from our home on stage. To say that we're hungry for it doesn't come close-we are gonna EAT that stage!! After 18 months of hell… who is ready to Send It!?!?" – Bliss n Eso

With 3 x ARIA #1 albums to their name and over 400,000 albums sold to date, this will be the Sydney heavyweights first major headline shows since 2017's national 'Off The Grid' tour

"Coupled with their lyrical creativity and verbal dexterity, they are formidable with a positive and uplifting message." Adelaide Now

"Bliss n Eso have this amazing variety to their music and whether it's rapping or a little more classical in their vocals, their voices and musical talents resonates perfectly with music fanatics. So the audience were drawn into the music with their hands in the air, it was quite an electrifying… albeit sweaty experience." Impulse Gamer

'Good People (feat. Kasey Chambers)' is their fresh single that will make its live debut with the group's performance on stage at Sidney Myer Music Bowl for this year's Music From The Home Front concert. Taking place on Anzac Day eve, the performance will be broadcast live on Channel 9 this Saturday 24 April. Watch on Channel 9 and 9NOW (7.30PM) + YouTube (7.30pm AEST).

Featuring Australian country music royalty Kasey Chambers – ARIA Hall of Fame inductee with 5 x ARIA #1 albums to her name – 'Good People' is an emotive slice of pop-driven rap that drives home the value in surrounding yourself with truly good people.

'Good People' follows the success of last year's 'Lighthouse (feat. Jake Isaac)', 'So Happy (feat. SonReal)' and 'Send It', which saw them excite fans with yet another television performance live on ABC's The Sound. 'Lighthouse' has garnered over 1.2 million streams on Spotify and was the cover of the platform's Gold Bars playlist for eight consecutive weeks.

Renown for their captivating live performances and boisterous energy – don't miss out on tickets to see Australia's finest, Bliss n Eso this June and July!
EVENT INFO
Wednesday
22 September 2021

Rescheduled from
Thursday 12 August 2021
Postponed Event
Covid Safe Event
Please read the full list of Thebby's Covid-Safe Practices here.
Content Warning
Strictly 18+. Contains adult themes and strong language.

Wheelchair/Accessible Seating/Companion Card
For all enquiries please contact the Box Office on Ph. (08) 8443 5255.
OFFICIAL TICKETS SOLD THROUGH TICKETMASTER ONLY