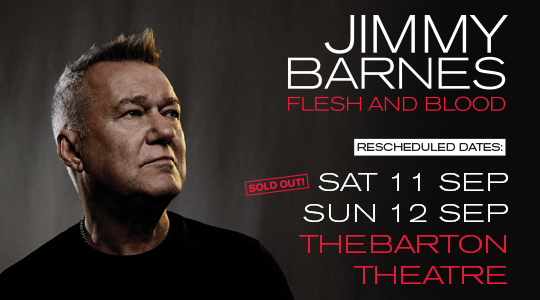 Covid-Safe Practices at Jimmy Barnes
The following are mandatory Covid-Safe practices as directed by SA Health:
◽️ ALLOCATED SEATING: patrons must remain seated at their seat for the duration of the event unless using the venue facilities e.g. bar, toilets.
◽️ SOCIAL GROUPS: Patrons are requested to arrive and depart in their social groups where possible.
◽️ CLOAKROOM UNAVAILABLE. Bags larger than A3 and backpacks will not be admitted into the venue
◽️ NO PASSOUTS under any circumstances
◽️CHECK IN Thebarton Theatre has an issued COVID-19 QR code for its location. Each person visiting the venue must check-in using the QR Code via the mySA GOV App or paper attendance record regardless of relation. Each patron is asked to display the 'Last Check In' screen upon entry, or sign the paper-based register.
◽️ Only attend the event if you are feeling well. Please complete the Covid Symptom Checker here.

Please see our Terms & Conditions of Entry before attending Thebarton Theatre.
About Jimmy Barnes Flesh & Blood Tour
Frontier Touring are excited to announce that Jimmy Barnes is set to hit the road in support of his forthcoming album Flesh And Blood. Touring theatres across Perth, Adelaide, Melbourne, Gold Coast, Brisbane and Sydney this July, the Flesh And Blood Tour will appropriately feature many members of Jimmy's family. Over the last year hundreds of 'at home' performances by the Barnes clan attracted more than 100 million views on social media and helped inspire a slew of new songs as well.

"It's great to be back playing live again", says Jimmy. "It was good to get some downtime at home for a change but now we're hungry to get back onstage together. If 2020 taught me anything it's that Facebook and YouTube videos can be fun but they're no substitute for a real gig."

Flesh And Blood will be released on July 2 and is the twentieth studio album by Jimmy Barnes. He has enjoyed twelve solo chart toppers plus five with Cold Chisel taking his career tally to a record setting total of seventeen #1 albums.

Jimmy debuted the title track from Flesh And Blood at the State Memorial for his close mate, Michael Gudinski: "Michael's loss really hit us hard. Everything he did was about family one way or another which is probably why he liked that song (Flesh and Blood) so much. I'm dedicating this record to his memory."

The ten songs on Flesh And Blood feature multiple contributions from Jimmy's extended family. His son Jackie plays drums, his daughters Mahalia, Eliza-Jane and Elly-May all contribute vocals, as does Jackie and granddaughter, Tyra Harrison. His son-in-law, Ben Rodgers, engineered the album, played bass and collaborated with Jimmy's nephew, renowned photographer Jesse Lizotte, on the album cover, plus he and Jane also duet together on the American classic Love Hurts.

"I realise lots of people have struggled badly during the last year but I've been able to stop and count my blessings", Jimmy explains. "Jane and I have been married for four decades but I've basically always been on the road so this was literally the first time we've ever spent so many months at home. It made me realize how lucky I am to be surrounded by our big musical family. As you can tell from all those songs we posted online we really like to sing with each other, so making an album with lots of the people I love felt like a natural way to help us pass this time together."

Appropriately the deluxe CD of the album will include a bonus DVD featuring ten of the most popular 'at home performances'. Bearing the tongue in cheek title, The Jane Barnes Band's Greatest Hits, this limited version will be an additional souvenir of a year that won't be forgotten in a hurry.

Flesh And Blood is the twentieth studio album by Jimmy Barnes. He has enjoyed twelve solo chart toppers plus five with Cold Chisel taking his career tally to a record setting total of seventeen #1 albums.
EVENT INFO
Postponed Event
Saturday 11 September 2021
Sunday 12 September 2021

Doors 6:30pm
Show 7:30pm
Postponed Event
from Friday 16 & Saturday 17 July 2021
This event has been postponed. All tickets remain valid for the new dates. If you cannot attend, you will be entitled to a refund from your point of purchase, subject to some processing conditions.
Children's Policy
This event is all ages. All patrons must hold a ticket regardless of age. It is recommended that patrons 15 years of age and under are accompanied by a paying Adult.

Wheelchair/Accessible Seating/Companion Card
For all enquiries please contact the Box Office on
Ph. (08) 8443 5255.
OFFICIAL TICKETS SOLD THROUGH TICKETMASTER ONLY