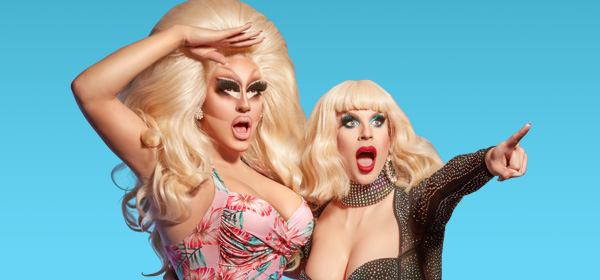 Covid Safe Practices at Trixie & Katya
Event Conditions are subject to change dependent on COVID guidelines & regulations at the time of the event.

MASKS:
Please bring your own mask – All patrons are required to wear a face mask at all times (excluding children under 12), unless you have a medical exemption for which evidence must be produced upon request. Masks may only be removed whilst eating or drinking.
 
QR CHECK-IN:
Thebarton Theatre has an issued COVID-19 QR code for its location. Each person regardless of relation visiting the venue must check-in using the QR Code via the mySA GOV App or paper when requested attendance record. Each patron is asked to display the 'Last Check In' screen upon entry, or sign the paper-based register.

CLOAKROOM:
Cloakroom will be unavailable. Bags larger than A3 and backpacks will not be admitted into the venue
 
COVID MARSHALS:
Will be present. Please adhere to any directions provided by the Covid Marshals or any staff member throughout the night. 
 
HEALTH & HYGIENE:
Please, ensure you wash your hands.
Hand sanitiser will be provided for patrons to use before entering the venue. Staff will sanitise the venue before and after all performances and during the event to ensure a clean environment.
Only attend the event if you are feeling well. If you present any COVID-19 symptoms get tested as soon as possible and follow social isolation guidelines until you recover.
 
If you have any questions regarding COVID-19, please head to the SA Health Website for more information.
https://www.sahealth.sa.gov.au/wps/wcm/connect/public+content/sa+health+internet/conditions/infectious+diseases/covid-19


ABOUT TRIXIE & KATYA

In The Dark Presents TRIXIE & KATYA LIVE! 2022
Thelma and Louise. Romy and Michelle. Trixie and Katya. "Trixie and Katya Live" is a parody homage to the classic girl's road trip buddy comedies from the 90's and 2000's to today – from drag classics "To Wong Foo" and "Priscilla", to "Crossroads" and "Barb and Star" – presented as an outrageous and absurd comedic musical drag show spectacular.
EVENT INFO
Wednesday 6 July 2022
8.00 PM
If you hold a ticket to the previously scheduled Trixie & Katya UNHhhh tour, please note you're tickets will be valid for this show. If you cannot attend, you will be entitled to a refund from your point of purchase, subject to some processing conditions.
Wheelchair/Accessible Seating/Companion Card
For all enquiries please contact the Box Office on
Ph. (08) 8443 5255.

Content Warning
There will be haze and lighting effects used during the show and of course, as this is a drag show, it contains adult themes and coarse language.
OFFICIAL TICKETS SOLD THROUGH TICKETMASTER 
ONLY