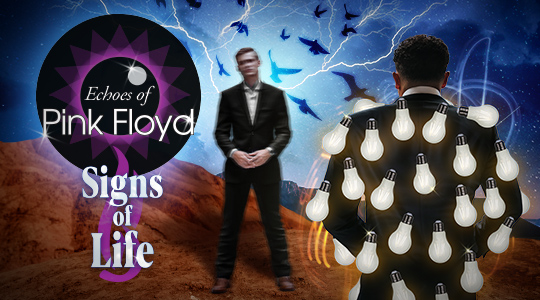 Event Conditions are Subject to change dependent on COVID guidelines & regulations at the time of the event.

View Covid Safe Measures here:
https://thebartontheatre.com.au/covid-safe-practices/


ECHOES OF PINK FLOYD

In 1988, Australia witnessed a rock concert event unprecedented in its scale, scope, and impact.
English powerhouse rockers Pink Floyd, sparkling with fresh energy after enduring significant upheaval in the early 1980s, came to our shores in support of their smash hit A Momentary Lapse of Reason album. Stunning in its audio and visual impact, this tour set a benchmark still considered the gold standard for touring acts the world over.

This tour was filmed and recorded for subsequent release as a live album, appropriately titled "The Delicate Sound of Thunder".
Now, 35 years later, Australia's own Echoes of Pink Floyd bring you their painstakingly crafted homage to this amazing concert experience, Signs of Life.

Signs of Life will take the listener on a voyage bringing back those heady years of 1988, with the best songs from the Delicate Sound of Thunder tour lovingly reproduced for Pink Floyd fans of all ages and backgrounds. Audiences will be able to thrill to tracks that have not been performed live in this country for decades, as well as enjoy all the smash hits and stadium anthems they know and love.

EVENT INFO
Saturday 6 May 2023
Doors 7:00pm Show 8:00pm
Children's Policy
This event is recommeded for ages 15+
Wheelchair/Accessible Seating/Companion Card
For all enquiries please contact the Box Office on
Ph. (08) 8443 5255.
OFFICIAL TICKETS SOLD THROUGH TICKETMASTER ONLY