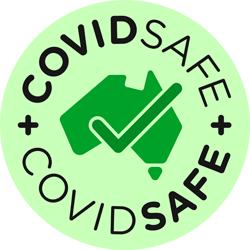 EVENT COVID SAFE PRACTICES
Event Conditions are subject to change dependent on COVID guidelines & regulations at the time of the event.

VENUE COVID-SAFE PRACTICES
The health and welfare of our patrons, staff and performers is our top priority. To ensure public safety, we will be implementing safety standards to help stop the spread. DO NOT ATTEND THE EVENT IF UNWELL. PERFORM A SELF-ASSESSMENT PRIOR TO TRAVELING TO THE CONCERT FOR ANY COVID-19 RELATED SYMPTOMS. If unsure, please complete the Covid Symptom Checker here. Below is a list of our COVID safety measures that you can expect at Thebarton Theatre. Please read through the protocols before heading to Thebby.

MASKS:
Please bring your own mask to help reduce waste – All patrons are required to wear a face mask at all times (excluding children under 12), unless you have a medical exemption for which evidence must be produced upon request. Masks may only be removed whilst eating or drinking.
Checking In Download the mySA GOV app before you arrive and check-in using the QR codes outside the theatre. If you need to sign-in using a pen and paper, you may do so at the information desk before the performance. Each person visiting the venue must check-in using the QR Code or paper attendance record regardless of relation. Refusal to do so will result in the refusal of entry into the event and your ticket being cancelled with no refund issue under the terms and conditions of entry. Each patron is asked to display the 'Last Check In' screen upon entry, or sign the paper-based register.

TICKETING
E-tickets are encouraged to minimise contact. Make sure you download and share any tickets before arriving – have your ticket ready to scan and your phone brightness up before you get to the entrance. If you have used the "Ticket Forward" function, please make sure the tickets have been received by the person you have forwarded them too.

SOCIAL GROUPS
Patrons are requested to arrive and depart in their social groups where possible.

CLOAKROOM
To avoid close contact and touching, cloaking is currently unavailable. Bags larger than A3 and backpacks will not be admitted into the venue. Please leave these at home.

HAND SANITISER
Hand sanitiser will be provided for patrons to use before entering the venue. Staff will sanitise the venue before and after all performances and during the night to provide a clean environment.

COVID MARSHALS
Please adhere to any directions provided by Covid Marshals or any staff member throughout the night. Covid Marshals will patrol the venue constantly to oversee patron, worker, and performer compliance. The ratio of COVID Marshals to patrons as directed by SA Health will be adhered to for all events.

SOCIAL DISTANCING
A gap of 1.5 meters should be kept between you, other patrons, and staff at all times. Including if you are queuing prior to doors. Please follow the markings and signage indicating distancing in ques and seating.

CONTACTLESS PAYMENT
Contactless pay-and-go payments are preferred. The Box Office will only be accepting contactless payment methods.

DIRECTIONAL SIGNAGE & QUEUING METHODS
Please follow the entry and exit signs posted around the venue so we can monitor the flow of patrons and adhere to capacity regulations. Each point of sale will have designated entry and exit rows.

ENTRY POINTS
3 entry points will be open at the venue prior to the event. Please refer to your ticket as to which door is most suitable for entry. If no door is indicated, please enter through the door with the smallest line


.

HEALTH
Only attend the event if you are feeling well. If you present any COVID-19 symptoms get tested as soon as possible and follow social isolation guidelines until you recover. If you are unsure whether you have COVID-19 symptoms, please complete the Covid Symptom Checker here. If you have any questions regarding COVID-19, please head to the SA Health Website for more information.

HYGIENE
Ensure to wash your hands. Signage will be present throughout the venue to indicate the appropriate hygiene protocols required.

TRANSPORT
It is recommended to take private transport methods to and from the venue to minimise contact with others on public transport. Close and free parking is available along Danby Street and neighbouring streets.

NO PASSPORTS
No pass-outs will be allowed under any circumstances to limit movement around the venue exterior and surrounding neighbourhood.

CLEANING
Thebarton Theatre employ cleaning staff to clean and disinfect pre, post and during the event.

PUBLIC ANNOUNCEMENT
Announcements regarding hygiene and social distancing will be made prior, during and after the event to remind patrons of the Covid conditions of entry.

SECURITY SCREENING
If security screening must be conducted at an event, it will be done so with minimal contact including all security offices wearing PPE and bags to be handled by the patron unless there is a reason for security to perform a more thorough search e.g. concealment of prohibited items.

Please pass this information on to any of your guests attending. Enjoy the show, we can't wait to see you there!