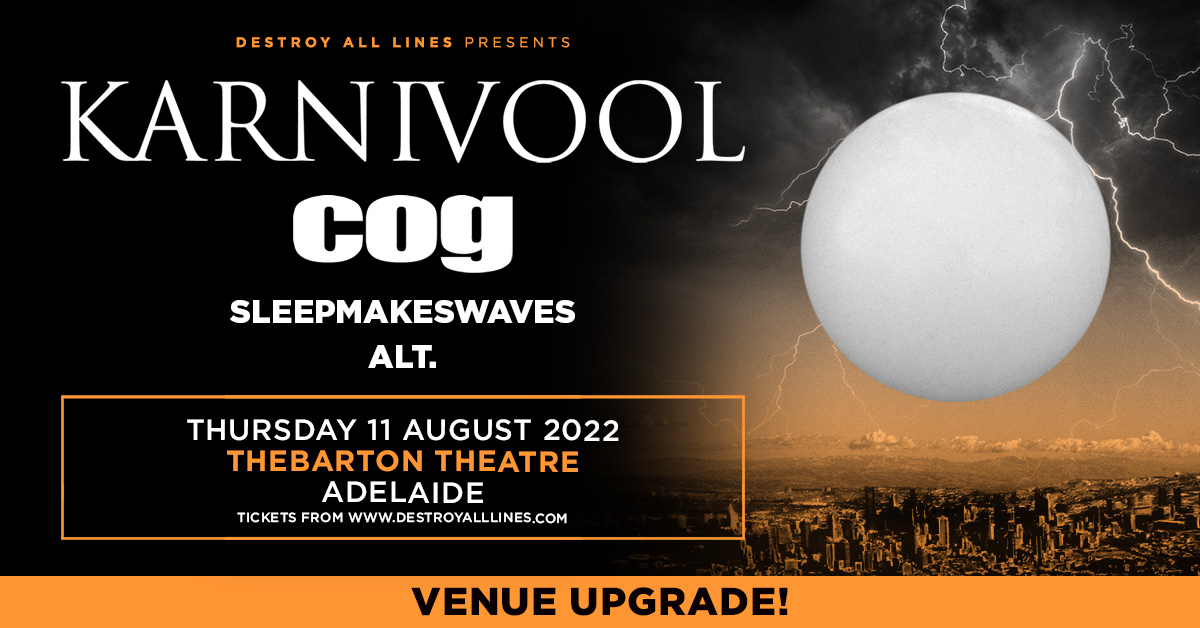 Event Conditions are Subject to change dependent on COVID guidelines & regulations at the time of the event.

View Covid Safe Measures here:
https://thebartontheatre.com.au/covid-safe-practices/
 

KARNIVOOL, COG, SLEEPMAKESWAVES & ALT

One of the most common cries in the Australian Music Scene when tours and festivals are announced is: "What? No Adelaide?" Well, South Australians, your cries have been heard and your prayers have been answered, thanks to Destroy All Lines!
 
Due to demand, the venue has been upgraded to Thebarton Theatre, Adelaide! 
 
Heading up the line-up is Karnivool, reanimated off the back of their #1 Decade of Sound Awake live Blu-ray & first new music in eight years, the recently released All It Takes. Karnivool are established  as one of the most vital global forces in progressive modern music with their acclaimed debut, Themata, the ground breaking follow-up, Sound Awake and the ARIA Award winning #1 album Asymmetry, the band have gained high praise from international press titans such as Rolling Stone, Billboard Magazine, Kerrang! and Rocksound whilst touring their euphoric live show.
 
Since their return in 2016 after their critically acclaimed albums The New Normal and Sharing Space and subsequent 5 year hiatus, COG have been immersing themselves in their craft with renewed vigour, already having a plethora of new ideas and structures from which to draw new material. Since they released 'The Middle' in 2018 – the first new material released by COG in ten years and 'Altered States' and 'Drawn Together' followed, each song providing further proof that although Cog had lost NONE of their firepower.
 
Rounding out the line-up in Adelaide is the iconic instrumental post-hardcore legends sleepmakeswaves, who have been smashing out EPs and singles relentlessly to their rabid fanbase throughout the past few pandemic-riddled years, and hometown heroes Alt., who have been turning heads left, right and centre with their 2020 EP Dysfunctional and their 2021 single Devil's Cut.
 
This once-in-a-lifetime event and chance to see Karnivool, COG and sleepmakeswaves on the same line-up in Adelaide is NOT to be missed.



EVENT INFO
Thursday 11 August 2022
Doors: 6:30 PM

Children's Policy
This is an 18+ event
Wheelchair/Accessible Seating/Companion Card
For all enquiries please contact the Box Office on
Ph. (08) 8443 5255.
OFFICIAL TICKETS SOLD THROUGH TICKETMASTER ONLY