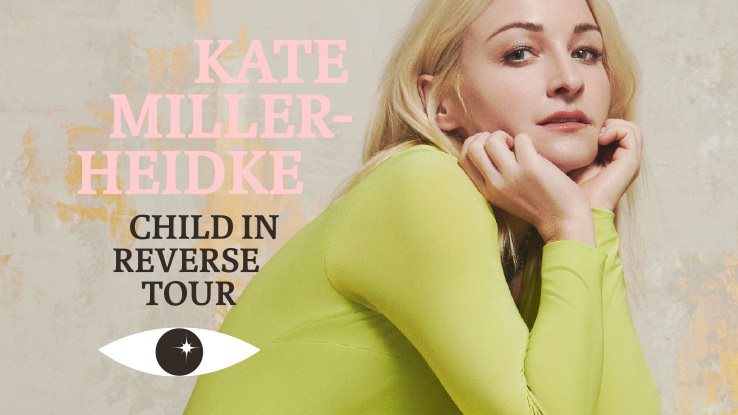 Covid-Safe Practices at Kate Miller-Heidke
The following are mandatory Covid-Safe practices as directed by SA Health:
◽️ MASKS ARE MANDATORY for this event. Please bring your own cloth mask to help reduce waste
◽️ ALLOCATED SEATING: patrons must remain seated in their allocated seat for the duration of the event unless using the venue facilities e.g. bar, toilets
◽️ SOCIAL GROUPS: Patrons are requested to arrive and depart in their social groups where possible.
◽️ CLOAKROOM will be unavailable. Bags larger than A3 and backpacks will not be admitted into the venue
◽️ NO PASSOUTS under any circumstances
◽️3 ENTRY POINTS are accessible via the Main Doors, Thebby Lane and the East Bar. See venue map here.
◽️ Only attend the event if you are feeling well. Please complete the Covid Symptom Checker here.

Please see our Terms & Conditions of Entry before attending Thebarton Theatre.
About Kate Miller-Heidke
Frontier Touring are delighted to announce award-winning singer-songwriter Kate Miller-Heidke's Child In Reverse Tour, taking place across September, October, November and December 2021! Joined by her a six-piece band, the tour will see Kate play regional towns and cities across Australia, performing 15 shows over four months.

"It has felt like an eternity waiting for this tour to begin. I'll be playing with my favourite musicians and we are bursting with joy and excitement at the prospect of hitting the road again after so long. We will be premiering some brand new material plus selecting some deep cuts from the back catalogue, as well as celebrating some old favourites.

Playing live has always been a pivotal part of what I do – the connection with you all and sharing loved moments in time and space. This one is going to be special."
Her fifth studio album, 2020's Top 10 ARIA Album Child In Reverse (EMI Music Australia) – hailed as her most pop album to date – spawned the singles, 'This Is Not Forever', 'Deluded', 'A Quiet Voice', 'Little Roots, Little Shoots' and 'Simpatico' feat. Mallrat.

'With a range that extends beyond the operatic and into the stratospheric, Kate Miller-Heidke may be a vocal show pony but she is certainly not of the one-trick variety. She is equal measures quirky alt-pop princess, musical theatre songwriter, empowered protest singer, classical diva and yearning folk balladeer.' – ★★★★★ The Adelaide Advertiser
VIP Packages
VIP PACKAGE 1: Ultimate M&G VIP Experience
· One reserved ticket in the first 2rows
· Attend soundcheck, plus Q&A with Kate
· Meet & Greet event with the artist – with signing/photos
· Exclusive VIP souvenir tour program
· Exclusive VIP set of 3 art prints
· Exclusive VIP canvas tote bag
· Exclusive VIP playing cards
· Commemorative VIP laminate and lanyard
· On site VIP hosts

VIP PACKAGE 2: Mega Fan VIP ExperiencePackage Inclusions
· One reserved ticket within the first 10 rows
· Exclusive VIP souvenir tour program
· Exclusive VIP set of 3 art prints
· Exclusive VIP canvas tote bag
· Exclusive VIP playing cards
· Commemorative VIP laminate and lanyard
· On site VIP hosts

T&Cs for VIP Packages
Please note that all VIP package purchasers will be contacted by Frontier Touring via email 5-7 days prior to the actual show date with additional details specific to event timings and package collection.

The Ultimate M&G VIP Experience begins from 5.30pm, late arrivals may not be admitted. Information will be sent to the email address provided at the time of purchase. Your contact details must be submitted at the time of purchase and be correct. Please note that if you do not receive an email a few days prior to the event, please contact katemillerheidkeVIP@frontiertouring.com for your information.

All VIP packages may vary market-by-market and are subject to modification at any time for any reason. All packages are non-transferable. All sales are final. There are no refunds or exchanges on packages for change of mind. Please note that the artist, tour promoter, ticketing company, venue or any other affiliated parties are not responsible for out dated or inaccurate information provided by the consumer at the time of purchase.
EVENT INFO
Saturday 16 July 2022
MASKS ARE MANDATORY AT THIS EVENT
Please bring your own cloth mask to the theatre to reduce wastage. Patrons refusing to wear a mask will be evicted from the venue without a refund under the Terms and Conditions of Entry.
Covid Safe Event
Please read the full list of Thebby's Covid-Safe Practices here.
Wheelchair/Accessible Seating/Companion Card
For all enquiries please contact the Box Office on Ph. (08) 8443 5255.
OFFICIAL TICKETS SOLD THROUGH TICKETMASTER ONLY