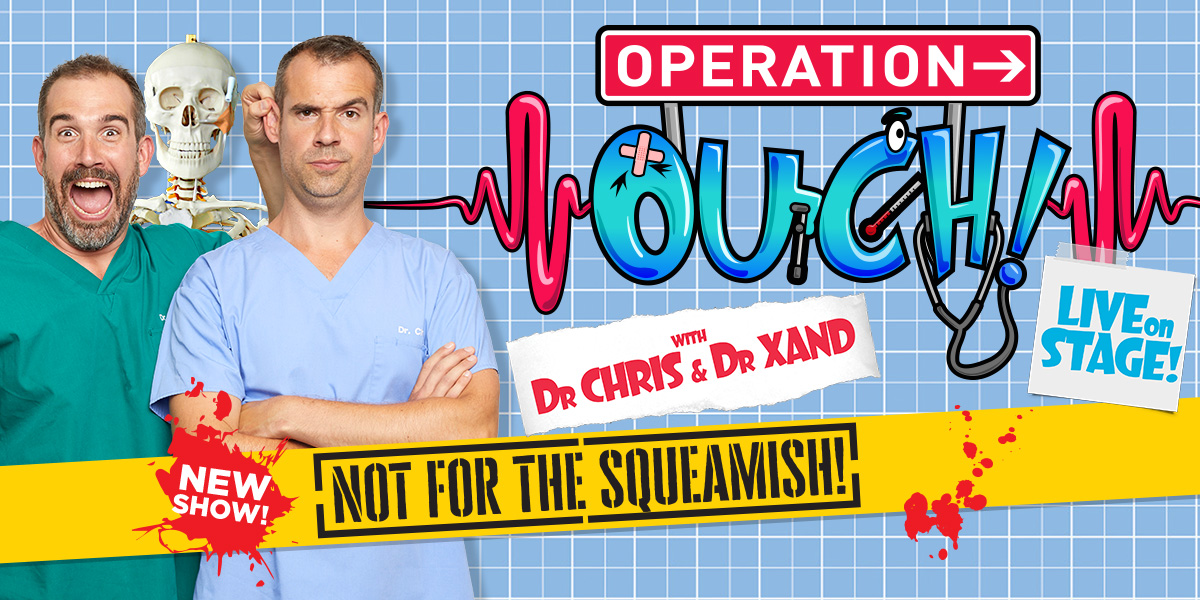 Event Conditions are Subject to change dependent on COVID guidelines & regulations at the time of the event.

View Covid Safe Measures here:
https://thebartontheatre.com.au/covid-safe-practices/
 

OPERATION OUCH

TV's favourite doctors return to Australia this January with a brand-new show! Following three sell-out Australian tours, and two smash hit seasons in London's West End, Dr Chris and Dr Xand are back! 
 
This brilliant show will be packed with all-new crazy experiments, mind blowing illusions and amazing facts, as the doctors explore the fascinating world of biology and show you the incredible things your body can do. It'll make you laugh and gross you out! 
____________________ 
 
Dr Chris and Dr Xand van Tulleken live in London with their families. They are qualified doctors, trained at Oxford University. Dr Chris is a practising infectious disease doctor, based at University College London Hospital and Dr Xand is an Associate Professor at University College London's Health of the Public. 
 
As well as Operation Ouch!, Xand is one of the regular doctors on BBC's Morning Live and they have both presented many other documentaries on health and medicine including What Are We Feeding Our Kids?, The Secrets of Human Body, Frontline Doctors: Winter Migrant Crisis, Horizon, Is Binge Drinking Really That Bad?, Blow Your Mind, Horizon, Sugar V Fat, The Secret Life Of Twins, and Medicine Men Go Wild. in 2021 they released a podcast called A Thorough Examination; Addicted to Food which is now on BBC Radio. Dr Chris has an upcoming book about the food industry and the global obesity crisis.   

EVENT INFO
Sunday 15 January 2023
 
Show 1
Doors 9:45AM
Show 10:30AM
Finish 11:45am
 
Show 2
Doors 12:45pm
Show 1:30pm
Finish 2:45pm
 
Show 3:
Doors 3:45pm
Show 4:30pm
Finish 5:45pm
Children's Policy
This event is recommeded for children
Wheelchair/Accessible Seating/Companion Card
For all enquiries please contact the Box Office on
Ph. (08) 8443 5255.
OFFICIAL TICKETS SOLD THROUGH TICKETMASTER ONLY