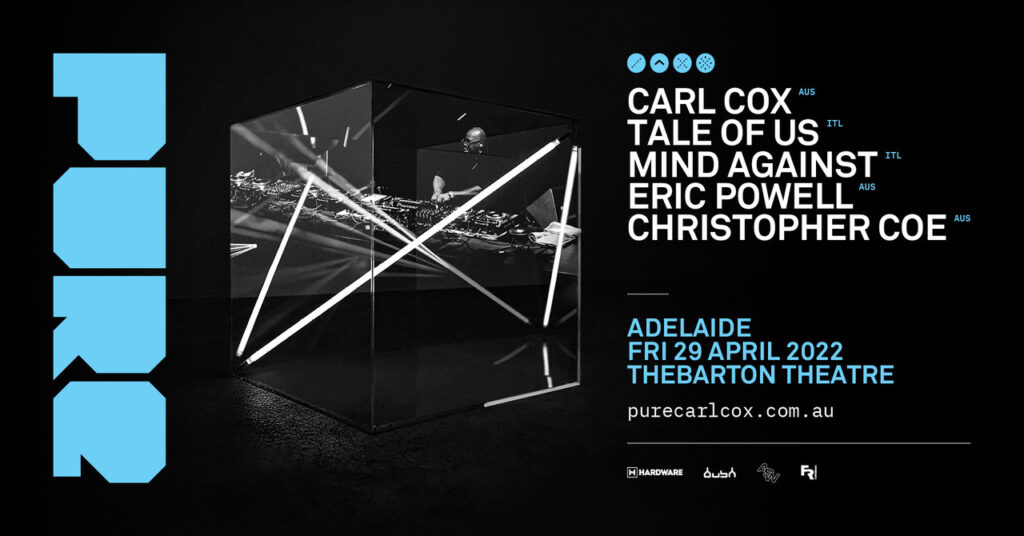 Covid Safe Practices at Pure
Event Conditions are subject to change dependent on COVID guidelines & regulations at the time of the event.

VACCINATION:
In line with the South Australian Roadmap for the health and safety of all our patrons and staff. All persons entering Thebarton Theatre will need to be fully vaccinated against COVID-19 with a vaccine approved by the Australian Therapeutic Goods Administration or must be able to produce an official medical exemption from COVID-19 vaccination approved by the Chief Public Health Officer with government issued photo identification.
 
Proof of vaccination will be required to gain entry into the venue. Patrons will need to show their COVID-19 digital certificate on their smart device (as part of the QR Code check in process) OR provide photo identification with a printed immunisation certificate.
                                                        
Please consider the vaccination status of you and your guests prior to purchasing a ticket.
 
MASKS:
Please bring your own cloth mask to help reduce waste – All patrons are required to wear a face mask at all times (excluding children under 12), unless you have a medical exemption for which evidence must be produced upon request. Masks may only be removed whilst eating or drinking in your seat.
 
QR CHECK-IN:
Thebarton Theatre has an issued COVID-19 QR code for its location. Each person regardless of relation visiting the venue must check-in using the QR Code via the mySA GOV App or paper when requested attendance record. Each patron is asked to display the 'Last Check In' screen upon entry, or sign the paper-based register.
 
SOCIAL GROUPS:
Please arrive and depart in your social groups where possible.
 
CLOAKROOM:
Cloakroom will be unavailable. Bags larger than A3 and backpacks will not be admitted into the venue
 
NO PASSOUTS:
No Passouts will be available under any circumstances
 
SIGNAGE:
The number of patrons per area will be limited. Please adhere to the signs and staff informing patrons of the density requirements in each area.  Please follow the entry and exit signs posted around the venue so we can monitor the flow of patrons and adhere to capacity regulations.
 
COVID MARSHALS:
Will be present. Please adhere to any directions provided by the Covid Marshals or any staff member throughout the night. 
 
HEALTH & HYGIENE:
Please, ensure you wash your hands.
Hand sanitiser will be provided for patrons to use before entering the venue. Staff will sanitise the venue before and after all performances and during the event to ensure a clean environment.
Only attend the event if you are feeling well. If you present any COVID-19 symptoms get tested as soon as possible and follow social isolation guidelines until you recover.
 
If you have any questions regarding COVID-19, please head to the SA Health Website for more information.
https://www.sahealth.sa.gov.au/wps/wcm/connect/public+content/sa+health+internet/conditions/infectious+diseases/covid-19


About Pure

Australia's most loved techno event, returns for its fifth year to announce a HUGE techno fueled lineup. After a record breaking 2019 with 20,000 revellers, PURE is back showcasing future techno sounds in an audio and visual sensory showdown.

PURE, presented and curated by Carl Cox, Eric Powell of Bush Records and Richie McNeill of Hardware, will see Carl Cox joined by Tale Of Us, Mind Against, Christopher Coe and a fine selection of local heroes.

Tale Of Us is the new unique Berlin based soundscape project of Carmine Conte & Matteo Milleri.  With multifaceted focus, Tale Of Us break poetic and emotional boundaries, bringing revery and awe to multiple scenes and levels, and they are coming our way. You will be in awe this April at Pure as you witness this tale.

Expressing a musical venture which draws from the combined roots of IDM, house and techno, Mind Against are the Italian-born, Berlin-based duo of Alessandro and Federico Fognini. Their gift for creating emotion through the synths and percussive instruments in their studio translates uniquely onto the dancefloor, where their slick, moving take on techno makes for a special kind of peak in the club.

Celebrating techno and house music, PURE has quickly established itself as a must attend event for dance music fans across the two countries, thanks to its reputation as an event where the audience can make a special connection with the DJs.

Join us for a night of Pure techno, delivered with incredible sound in an old fashioned no nonsense, no fluff rave atmosphere.
EVENT INFO
Friday 29 April 2022
7:00 pm
OVER 18 YEARS ONLY WITH PHOTO I.D. WILL BE ADMITTED
NO I.D. / NO ENTRY / NO REFUND
Wheelchair/Accessible Seating/Companion Card
For all enquiries please contact the Box Office on
Ph. (08) 8443 5255.
Rescheduled Event
This event has been rescheduled from Friday 17 April 2020 to Friday 16 April 2021, 19 November 2021 and is NOW Friday 29 April 2022. Tickets showing the old date are still valid.
OFFICIAL TICKETS SOLD THROUGH TICKETMASTER ONLY