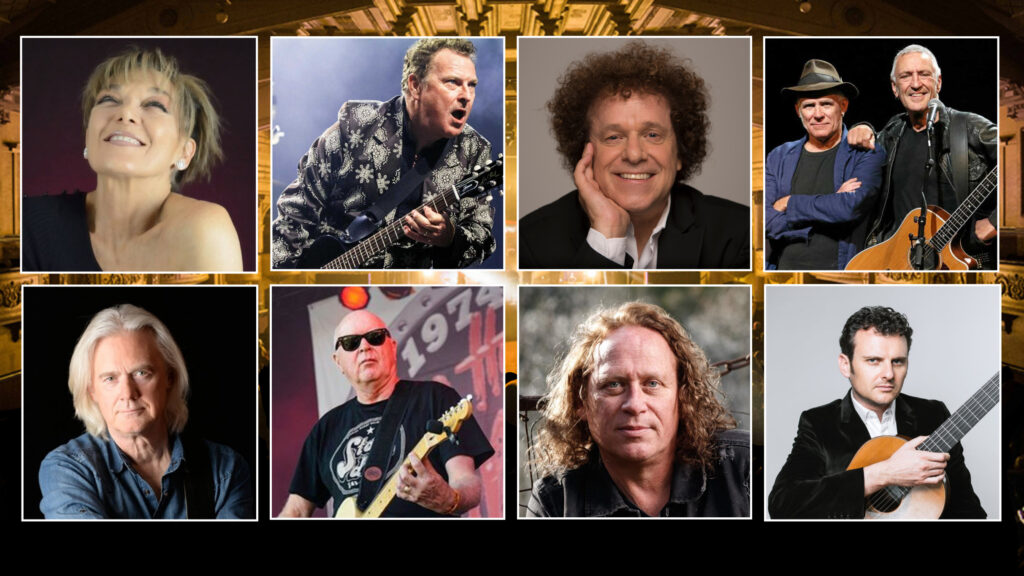 COVID SAFE PRACTICES
MASKS ARE MANDATORY for this event. Please bring your own cloth mask to help reduce waste

ALLOCATED SEATING: patrons must remain seated in their allocated seat for the duration of the event unless using the venue facilities e.g. bar, toilets

SOCIAL GROUPS: Patrons are requested to arrive and depart in their social groups where possible.

CLOAKROOM will be unavailable. Bags larger than A3 and backpacks will not be admitted into the venue

NO PASSOUTS under any circumstances

CHECK IN Thebarton Theatre has an issued COVID-19 QR code for its location. Each person visiting the venue must check-in using the QR Code via the mySA GOV App or paper attendance record regardless of relation. Each patron is asked to display the 'Last Check In' screen upon entry, or sign the paper-based register.
Ticket purchases are subject to change dependent on COVID guidelines & regulations at the time of the event.
 
RISE UP 2022 CONCERT
Leading International, Australian and local artists unite, to support mental health.

Leo Sayer
Ross Wilson (Daddy Cool / Mondo Rock)
John Brewster & Dave Gleeson – (The Angels)
John Waters & Stewart D'Arrietta –
(Celebrated actor /singer – performing the John Lennon Songbook)
Lisa Edwards –
(Singer / songwriter – from John Farnham Band)
Mick Pealing – (iconic SA country rock band 'Stars')
Sharon & Slava Grigoryan –
(Cello and guitar duo / classical masters)
Lilac Cove feat. Laura Hill –
(Finalist 2021 SA Music Awards 'Pop' Award)
Allan Sumner and Nancy Bates –
(Leading First Nations artists)
Tilly Tjala Thomas –
('Best Aboriginal/Torres Strait Islander Artist' SA Music Awards 2021)
Dino Jag – (Chart topping SA singer /songwriter)
Mr Buzzy – (Leading event party band)

All proceeds to aid music industry charities Support Act and Crew Care, plus Breakthrough Mental Health Research Foundation. House band include members of 'Rumours – The Fleetwood Mac Show', plus SA's leading session musicians. Promoted by Rob Pippan Productions.

Video messages from icon artists will fill out what will be a very special, and uniquely South Australian event.

In the case of Support Act and Crew Care, both support entertainment industry workers in need.
Support Act is Australia's only charity delivering crisis relief services to artists, artist managers, crew and music workers as a result of ill health, injury, a mental health problem, or some other crisis that impacts on their ability to work in music.
CrewCare focuses on road crew and behind the music scene workers. They have established important programmes, represent, advocate and support crew who are the engine room our industry, both internally and externally. In 2020/21, Support Act was pleased to provide crisis relief to 525 crew through grants valued at over $1.57m. These included grants for people directly impacted by the pandemic, plus grants for funeral support and non-COVID related issues.
Funds raised for Breakthrough will assist its ongoing work in mental health research to help transform the lives of those affected by mental health issues. Breakthrough is Australia's only dedicated mental health research foundation with its work focused on creating a life free from mental illness.

With the rising challenges of restrictions on the entire SA entertainment industry, this event is being created, and driven, by members of our industry to help South Australian's specifically. Thousands of people, and businesses, in the sector are all struggling due to significant lost income, declining mental health, and in need of support. This event aims to raise much needed support funds, and awareness.

Event promoter Rob Pippan adds: 'I give thanks to all the amazing artists who have agreed to appear in support of these three very worthy charities. After a recent SA Entertainment industry Summit held at the Arkaba, it was evident from promoters, artists, behind the scenes workers and venues that the combination of
lockdowns, complex covid plans for venues, plus upright consumption and dancing restrictions had significantly affected the entire music and hospitality industry. It had set thousands that work in it on a disastrous path of not being able to trade properly, and make sustainable livings. Tens of millions of dollars of earnings in the busiest trading quarter of the year have now been lost. The compounding stress of inability to work, and financial pressure, had set many onto a dangerous mental health pathway, that needs be supported and addressed. Entertainment is one of the first to support others in need. This event will directly assist those in need in our industry. It's time to party again!'

Breakthrough Executive Director John Mannion said it was 'exciting that so many people appreciate the significance of mental health and we thank the incredible artists taking part for their generosity in highlighting such an important issue.'
EVENT INFO
Postponed
New date tbc

All Ages
This event is all ages. All patrons must hold a ticket regardless of age. It is recommended that patrons 15 years of age and under are accompanied by a paying Adult
Wheelchair/Accessible Seating/Companion Card
For all enquiries please contact the Box Office on
Ph. (08) 8443 5255.
OFFICIAL TICKETS SOLD THROUGH TICKETMASTER ONLY
Ticket purchases are subject to change dependent on Government COVID guidelines & regulations at the time of the event. This may require rescheduling of dates or changes to ticketing configurations if required under government guidelines.