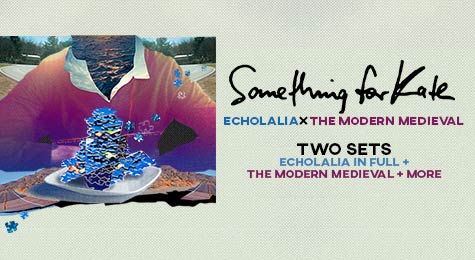 Frontier Touring and Village Sounds are proud to announce that Melbourne trio Something For Kate, one of Australia's most influential bands, will head out on their first national headline tour in four years this coming September/October – the Echolalia x The Modern Medieval tour.
 
For one night only in each city, Paul Dempsey, Stephanie Ashworth and Clint Hyndman will go 'Double or Nothing' with the Echolalia x The Modern Medieval tour – performing two special sets per show in our country's most ornate theatre venues.
 
'We've been unable to tour The Modern Medieval since its release last year and along with Echolalia turning 20 this year, we wanted to find a way to celebrate both albums so we decided to play two sets a night. We'll be our own support band!
 
One set will feature Echolalia in full and the other set will be made up of songs from The Modern Medieval plus a mix of other favourites. This will be a rare and unique Something for Kate tour. We can't wait for these very special shows.'                     – Something For Kate
 
'Double or Nothing' is a brand-new concert series that offers a once-in-a-lifetime opportunity for fans see their favourite iconic Australian band play two very special sets over the course of one unique evening. It's an evening that celebrates albums embedded in the hearts, minds and collective DNA of Australian audiences. 
 


COVID SAFE PRACTICES AT SOMETHING FOR KATE
ALLOCATED SEATING: patrons must remain at their allocated seat for the duration of the event unless using the venue facilities e.g. bar, toilets
SOCIAL GROUPS: Patrons are requested to arrive and depart in their social groups where possible.
CLOAKROOM UNAVAILABLE. Bags larger than A3 and backpacks will not be admitted into the venue
NO PASSOUTS under any circumstances
CHECK_IN Thebarton Theatre has an issued COVID-19 QR code for its location. Each person visiting the venue must check-in using the QR Code or paper attendance record regardless of relation. Each patron is asked to display the 'Last Check In' screen upon entry or sign the paper-based register.
3 ENTRY POINTS are accessible via the Main Doors, Thebby Lane and the East Bar, please enter through the door with the smallest line.

EVENT INFO
POSTPONED

From Saturday 18 September 2021

All Ages
This event is all ages. All patrons must hold a ticket regardless of age. It is recommended that patrons 15 years of age and under are accompanied by a paying Adult.
Wheelchair/Accessible Seating/Companion Card
For all enquiries please contact the Box Office on
Ph. (08) 8443 5255.
OFFICIAL TICKETS SOLD THROUGH TICKETMASTER ONLY