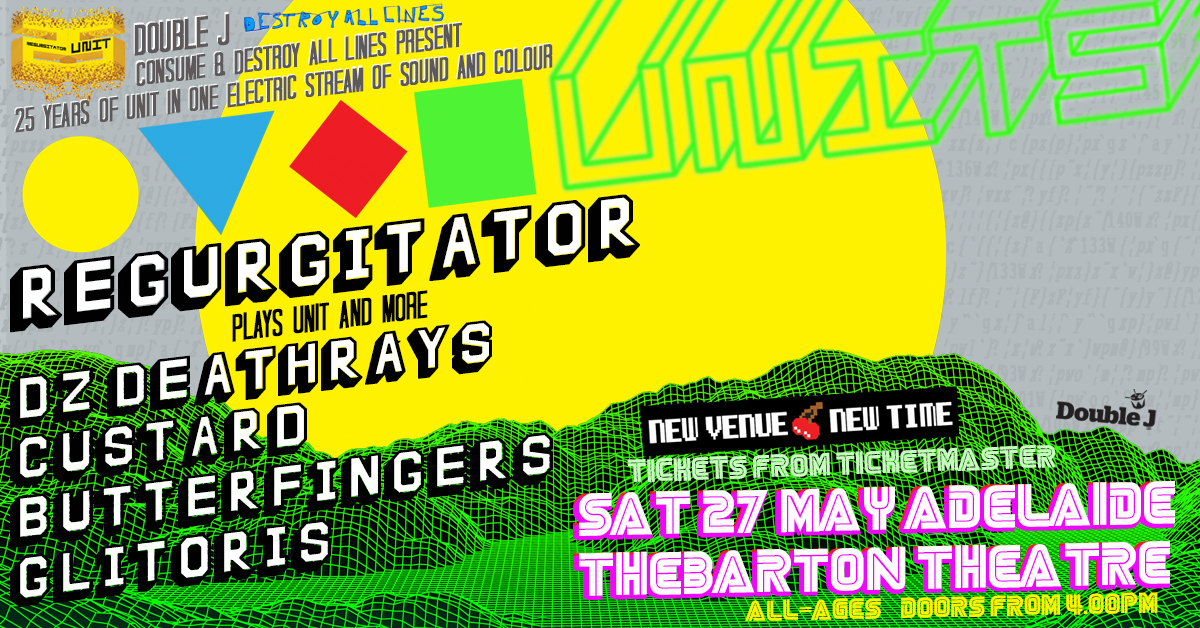 Event Conditions are Subject to change dependent on COVID guidelines & regulations at the time of the event.

View Covid Safe Measures here:
https://thebartontheatre.com.au/covid-safe-practices/
 
UNITS 25 YEARS OF REGURGITATOR
Double J, Consume and Destroy All Lines present
UNITS NATIONAL TOUR
25 YEARS OF UNIT IN ONE ELECTRIC STREAM OF SOUND AND COLOUR
 
REGURGITATOR – PERFORMING UNIT IN FULL + MORE 
DZ DEATHRAYS
CUSTARD
BUTTERFINGERS
GLITORIS
 
A NATIONAL TOUR OF ICONIC 1997 ALBUM UNIT
JOINED BY A STELLAR LINEUP OF FRIENDS
 
Game over Melbourne/Naarm! Game over Canberra/Ngambri. You flock of space invading sellouts! Massive effort. Pressure rises. 
So with the units screeching through with speeds of sound we now announce Adelaide/Kaurna is on the upgrade moving to the THEBATON THEATRE. All systems are go! La UNIDAD cuarto de siglio!
 
REGURGITATOR announce UNITS – 25 YEARS OF UNIT IN ONE ELECTRIC STREAM OF SOUND AND COLOUR touring the nation in celebration of their iconic 1997 album, which will be played in full, in all its pixelated density, along with an extended set of hits. As supported by Double J.

Returning for the national tour will be UNIT-era Regurgitator keytarist Shane Rudken, along with the Ken Weston turning up the multi-dimensional in an ocular sense on full-pixel visuals.
 
Joined in the moment by a veritable legion of musical cohorts featuring DZ Deathrays, Custard, Butterfingers and Glitoris. The pixel's gonna shine one more time nationwide!
 
UNITS. Code for rhymes. Products of time. 
 
There just is. The parameters come defined by a myriad vista of zeros and ones… on and off… decisions and choices – some more than others. The input activated signals all hail the storm of pixelations that cascade across dream screens flash washing our minds with saturated sound and colour. The pixel rains supreme like a solar fractal fragmenting the silver streams we skim our daily way through… building blocks to chain the virtuality and crave a mass of neon ear worms infest shifting plates of the seismic psyche. Just go with it. We are all units. 
 
In a world stood prone before portals comes a veritable electric stream of bits – 25 years of UNIT in one moment of sound and colour. Music is waves.
 
Now let's take this interface live across the nation:
 
EVENT INFO
Saturday 27 May 2023

Regurgitator 9:15
DZ Deathrays 8:00
Custard 6:45
Butterfingers 5:35
Glitoris 4:30
Doors: 4:00

Children's Policy
This event is recommeded for all ages
Wheelchair/Accessible Seating/Companion Card
For all enquiries please contact the Box Office on
Ph. (08) 8443 5255.
OFFICIAL TICKETS SOLD THROUGH TICKETMASTER ONLY