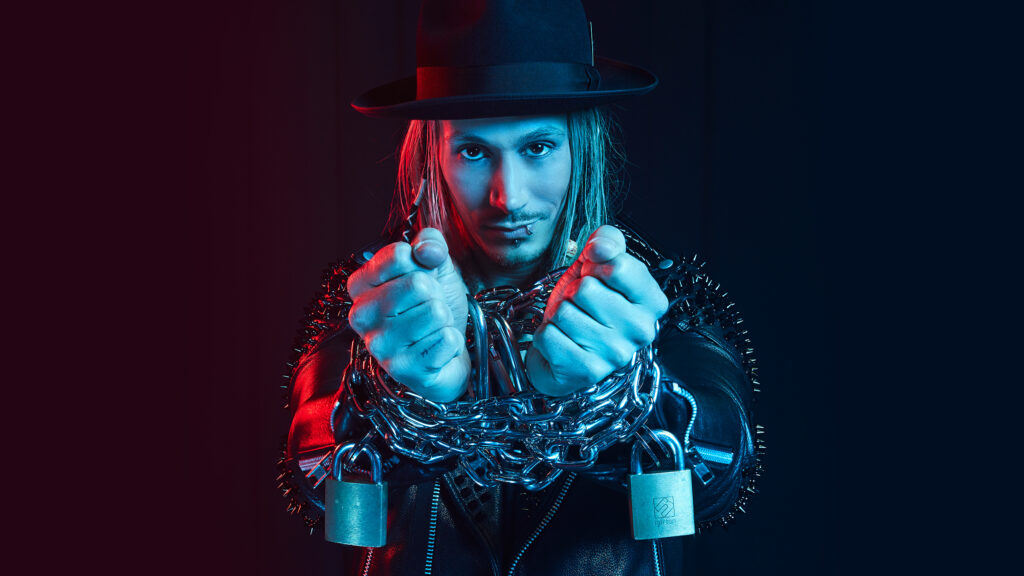 Covid Safe Practices at Cosentino Deception
The following are mandatory Covid-Safe practices as directed by SA Health:
◽️ MASKS ARE MANDATORY for this event. Please bring your own cloth mask to help reduce waste
◽️ ALLOCATED SEATING: patrons must remain seated in their allocated seat for the duration of the event unless using the venue facilities e.g. bar, toilets
◽️ SOCIAL GROUPS: Patrons are requested to arrive and depart in their social groups where possible.
◽️ CLOAKROOM will be unavailable. Bags larger than A3 and backpacks will not be admitted into the venue
◽️ NO PASSOUTS under any circumstances
◽️3 ENTRY POINTS are accessible via the Main Doors, Thebby Lane and the East Bar. See venue map here.
◽️ Only attend the event if you are feeling well. Please complete the Covid Symptom Checker here.

Please see our Terms & Conditions of Entry before attending Thebarton Theatre.
About Cosentino Deception
The greatest magic show you will see
– News Corp

One of the best Escape acts I have ever seen
– Simon Cowell

One of the world's best magicians
– CNN

Revolutionised the art of magic in Australia, making it one of the hottest genres in primetime
– The Today Show

The most dominant figure currently in Australian Entertainment
– Macquarie Radio Network

Australia's most successful magician, illusionist and escapologist
– SUNDAY NIGHT program, Seven Network

An international phenomenon
– TVNZ

Australia's best magic showman, one of the finest in the world
– Men's Style Magazine
Cosentino is Australia's most successful magician, illusionist and escape artist. He has been recognised as "the most dominant figure currently in Australian entertainment" and now Cosentino is quickly becoming a giant on the world stage.

A true entertainment trailblazer, Cosentino was the first Australian magician to have his own TV shows. He has written, produced & starred in 9 (nine) highly successful prime-time specials, which have now been broadcast in over 40 countries and seen by over 500 million people. The Today Show said "Cosentino has single handedly revolutionised the art of magic in Australia, making it one of the hottest genres in primetime".

Cosentino has appeared on every major television show and media outlet across Australia making him a household name and one of country's most recognisable entertainers. Newscorp stated "Cosentino is the most successful entertainer to emerge from reality television in Australia".

Cosentino's award-winning live touring shows have been staged to rave reviews and full houses in Australia, New Zealand, Singapore, Thailand, Vietnam, Macau and across South East Asia. His productions are amongst the most powerful, riveting and sought after in the entertainment industry today.

Cosentino has won multiple Merlin Awards, which are the highest accolades in the magic industry and are presented by the International Magician's Society in New York. Previous winners include David Copperfield, Criss Angel and Penn & Teller. Cosentino has been awarded the Merlin Award acknowledging him as both the 'International Magician of the Year' and the 'International Escape Artist of the Year'.

Other acknowledgements include The Levante Award which was presented by the Australian Magic Forum to recognise Cosentino's incredible achievements in Australia and overseas and The Brand Laureate Award, presented to Cosentino in Malaysia to recognise his admirable contribution to the world of Illusion.

Cosentino was the runner up on Australia's Got Talent in 2011, the winner of Dancing With The Stars Australia in 2013 and had a starring role in the Jackie Chan film 'Bleeding Steel', which debuted #1 at the Chinese box office.

After struggling with learning and reading difficulties as a child, Cosentino has now become a successful author. His autobiography 'Anything is Possible' is on the official 'best sellers' list and has been released in Australia, New Zealand, the UK and right across Asia. Cosentino has also created an animated book series called 'The Mysterious World of Cosentino' which is targeted at 8 – 12yr olds. The four book series has been released globally to critical acclaim.
EVENT INFO
Sunday 12 December 2021
7:30 pm

Postponed Event
Covid Safe Event
MASKS ARE MANDATORY AT THIS EVENT
Please bring your own cloth mask to the theatre to reduce wastage. Patrons refusing to wear a mask will be evicted from the venue without a refund under the Terms and Conditions of Entry.
All Ages
This event is all ages. All patrons must hold a ticket regardless of age. It is recommended that patrons 15 years of age and under are accompanied by a paying Adult.
Wheelchair/Accessible Seating/Companion Card
For all enquiries please contact the Box Office on
Ph. (08) 8443 5255.
OFFICIAL TICKETS SOLD THROUGH TICKETMASTER ONLY