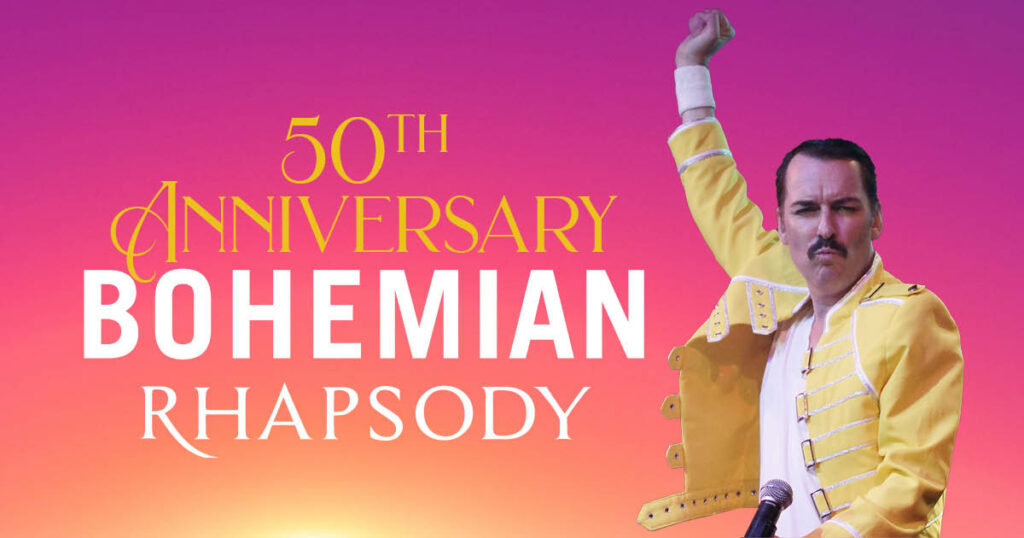 Covid Safe Practices at Queen Bohemian Rhapsody
MASKS ARE MANDATORY: for this event. Please bring your own cloth mask to help reduce waste
ALLOCATED SEATING: patrons must remain seated at their seat for the duration of the event unless using the venue facilities e.g. bar, toilets.
SOCIAL GROUPS: Patrons are requested to arrive and depart in their social groups where possible.
CLOAKROOM UNAVAILABLE. Bags larger than A3 and backpacks will not be admitted into the venue
NO PASSOUTS under any circumstances
CHECK_IN Thebarton Theatre has an issued COVID-19 QR code for its location. Each person visiting the venue must check-in using the QR Code or paper attendance record regardless of relation. Each patron is asked to display the 'Last Check In' screen upon entry, or sign the paper-based register.
 
Please see our Terms & Conditions of Entry before attending Thebarton Theatre.
About Queen Bohemian Rhapsody
50 Years On !  Queen Bohemian Rhapsody
 
Following a hugely successful 2019/20 sell-out tour, Queen – Bohemian Rhapsody are returning with a Brand New show in 2022 combining Queens 'Greatest Hits' and a few of the most popular songs on their albums.
 
The hit movie QUEEN – Bohemian Rhapsody exposed this fantastic band to a much wider audience making QUEEN more popular than ever.  Without a doubt, Queen is amongst the greatest rock bands of the twentieth century and Freddie Mercury is hailed by many as the most charismatic and flamboyant performer in contemporary rock.
 
Queen is amongst the greatest rock bands of the 20th century and Freddie Mercury is hailed by many as the most charismatic and flamboyant performer in contemporary rock.
Now, fresh of the heels of the successful Bohemian Rhapsody movie, comes an all new Queen tribute show from well-known Australian Freddie Mercury impersonator Thomas Crane.
 
Thomas with his hot band Bohemian Rhapsody bring back to life the visual excitement, sound and stage energy as witnessed at a Queen concert.
 
Queen, Bohemian Rhapsody will perform all the great hits like We Will Rock You, Crazy Little Thing Called Love, We Are The Champions, Radio Ga Ga, A Kind of Magic, I Want To Break Free, Another One Bites the Dust, Bohemian Rhapsody.
 
'YOU'VE SEEN THE HIT MOVIE…… Now SEE THE Sensational SHOW that everyone is raving about !  

Come and celebrate the 50th Anniversary of Supergroup QUEEN !
 
Fans of the successful British rock band will be well aware that a huge part of the Queen live experience was their stage presence, flamboyance, theatrics and energy. 
The Sensational Thomas Crane and Bohemian Rhapsody bring those traits to the stage in their visual and energetic rendition of a Queen live experience.
"Everything is here, right down to the trademark cheeky banter and singing contests between Freddie and his audience," Crane said.
"Bohemian Rhapsody manage to take everything that made a Queen show unique, and bring it back to life before your very eyes and ears."
The Queen – Bohemian Rhapsody show will work its way through the decades, showcasing Queen's hits from the 70s through to the 90s

My God Freddie Mercury is alive and well he would have been very proud of that vocal performance  –  Molly Meldrum !
 
That's The Best Freddie Mercury Impersonation I have seen YOU ROCK  – Danni Minogue !
 
Thomas Crane is a great singer and an amazing showman – Brian McFadden  Westlife !
 
 
EVENT INFO
Saturday 9 April 2022
Doors – 7:00pm
Start – 8:00pm

Covid Safe Event
MASKS ARE MANDATORY AT THIS EVENT
Please bring your own cloth mask to the theatre to reduce wastage. Patrons refusing to wear a mask will be evicted from the venue without a refund under the Terms and Conditions of Entry.
All Ages
This event is all ages. All patrons must hold a ticket regardless of age. It is recommended that patrons 15 years of age and under are accompanied by a paying Adult.
Wheelchair/Accessible Seating/Companion Card
For all enquiries please contact the Box Office on
Ph. (08) 8443 5255.
OFFICIAL TICKETS SOLD THROUGH TICKETMASTER ONLY