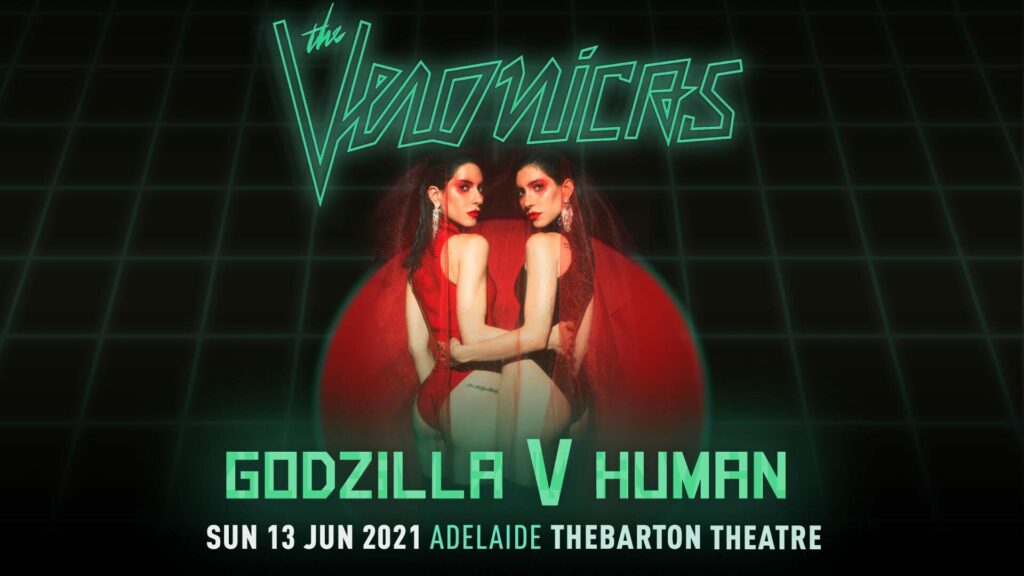 Covid Safe Practices at The Veronicas
The following are mandatory Covid-Safe practices as directed by SA Health:
◽️ MASKS ARE MANDATORY for this event. Please bring your own cloth mask to help reduce waste
◽️ ALLOCATED SEATING: patrons must remain seated in their allocated seat for the duration of the event unless using the venue facilities e.g. bar, toilets
◽️ SOCIAL GROUPS: Patrons are requested to arrive and depart in their social groups where possible.
◽️ CLOAKROOM will be unavailable. Bags larger than A3 and backpacks will not be admitted into the venue
◽️ NO PASSOUTS under any circumstances
◽️3 ENTRY POINTS are accessible via the Main Doors, Thebby Lane and the East Bar. See venue map here.
◽️ Only attend the event if you are feeling well. Please complete the Covid Symptom Checker here.

Please see our Terms & Conditions of Entry before attending Thebarton Theatre.
About The Veronicas
Multi-platinum selling Australian music icons, The Veronicas – aka Jess and Lisa Origliasso – have announced their first national tour in six years, GODZILLA V HUMAN. Set to take Australia by storm from June 4, the month-long tour across 12 cities will see the pop duo perform a string of shows across the nation in what promises to be their most spectacular concert yet.

The long-awaited GODZILLA V HUMAN tour from Australia's most successful musical duo will treat audiences to a unique experience as they're taken aboard a flight simulation on Veronicas Airlines before the concert splits into two parts, providing a special performance that showcases the two very different sides of the sisters. GODZILLA will be a high energy introduction into the alter ego of the pop stars, The Veronicas, and HUMAN will see Lisa and Jess strip it all back to their more vulnerable singer/songwriter roots. The duality of the show promises fans uniquely intimate access into the journey of becoming one of Australia – and the world's – most commanding pop stars.

"There is no greater feeling than connecting with our fans In our live show. Getting to show perform new music, as well as new ways to connecting over"

The tour will feature all the fan favourites from across The Veronicas' catalogue as well as new music from their upcoming surprise two-album release GODZILLA and HUMAN, through Sony Music. Similar to the tour, their highly anticipated new studio albums highlight two different sides of the infamous twins with GODZILLA released on Friday, May 28 followed by HUMAN on Friday, July 2. The ferocious title track, Godzilla, is available now and sees the re-emergence of the writing trinity of Toby Gad, Lisa Origliasso and Jessica Origliasso for the first time since The Veronicas' international hit Untouched and begins with guitars reminiscent of an early Silverchair record and synths straight out of a mid 90's science fiction action film.

The Veronicas have a way of setting a precedence for music that continues to remind us why they are considered one of the most dynamic and re-inventive faces of pop music. The two new albums and national concert tour mark the next chapter in an extraordinary alternative pop career, throughout which The Veronicas have cemented their place as bona fide pop icons.

Beloved by audiences from all walks of life, and after recently becoming the must-see darlings of the festival circuit, The Veronicas' achievements so far speak for themselves. With chart success around the globe including double Platinum status in the USA, they've had nine top 10 hits in Australia including three #1s, several multi-platinum singles including Hook Me Up, You Ruin Me, Untouched and In My Blood, over half a billion streams, 175 million YouTube/Vevo views and 3.5 million social connections. The duo recently released their own ethical perfume brand, Untouched, starred in their very own MTV produced reality show Blood Is For Life and will appear in the coming months on Nine's Celebrity Apprentice.
EVENT INFO
Sunday 13 June 2021
MASKS ARE MANDATORY AT THIS EVENT
Please bring your own cloth mask to the theatre to reduce wastage. Patrons refusing to wear a mask will be evicted from the venue without a refund under the Terms and Conditions of Entry.
Children's Policy
This event is all ages. It is recommended that patrons 15 years of age and under are accompanied by a paying Adult.
Wheelchair/Accessible Seating/Companion Card
For all enquiries please contact the Box Office on
Ph. (08) 8443 5255.
OFFICIAL TICKETS SOLD THROUGH TICKETMASTER ONLY