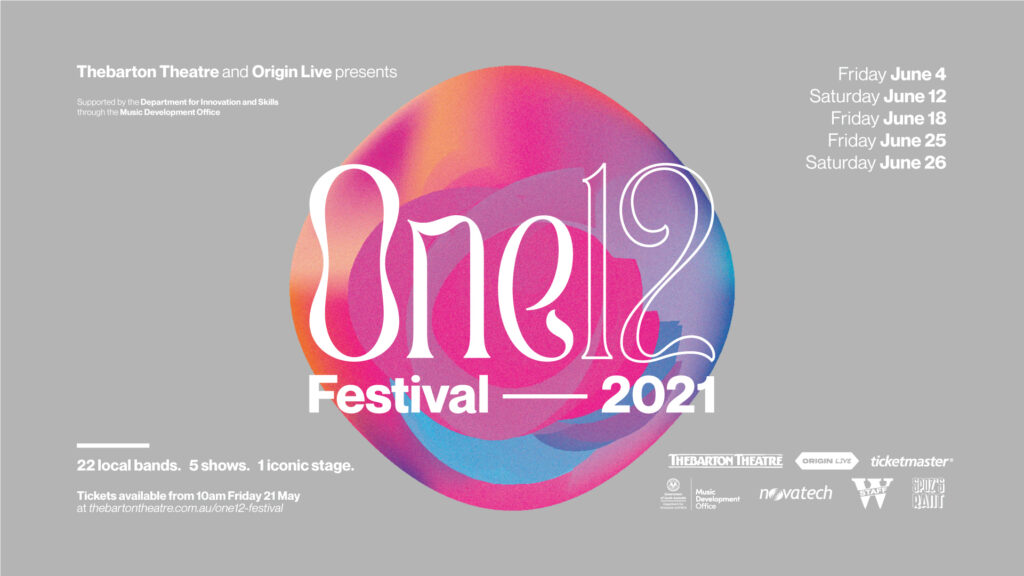 2-for-1 TICKETS
Head to the One12 Festival this weekend and bring a friend on us!

We have some incredible Adelaide band line-ups for you and we want as many people to see these local legends on the Thebby stage this Friday and Saturday night.

All ticket holders will receive a complimentary ticket on the night. Just rock up to Thebby on the night with your plus 1.

This applies to all current ticket holders and future tickets purchased.
About One12 Festival
Thebarton Theatre and Origin Live are excited to announce the launch of a new annual festival supporting local SA artists – One12 Festival. 22 bands across 5 nights in June 2021 will showcase the incredible local talent in SA hosted at the iconic Thebarton Theatre.

The festival is supported by the South Australian Government's Music Development Office.

Now more than ever, patrons are excited to get back to live entertainment and support local bands who are eager to get back on stage after the gig scene hit pause in 2020. Without international artists touring Australia, emerging artists have the opportunity to showcase their talent and grow a following.

Each band will be filmed, recorded and streamed by SA filming company Amplify This. The way we experience music is changing, so the ability to be professionally recorded with a live crowd is a major opportunity for the emerging bands as it will help them grow their online presence and following.

Thebarton Theatre is usually on the gig bucket list for any artist in Australia, and especially for locals. Not only does this grant support local artists, but also Thebby in what is usually a quiet season. With over 80 shows postponing or cancelling in 2020, the ability to reopen the Thebby doors and welcome patrons back to live entertainment is crucial for the venue to remain viable. Thebby has a great passion for supporting local talent and is excited to welcome emerging artists in various stages of their music careers onto her stage this June.

In a world-first on Friday 18 June, 4 indie-rock bands will compete in a game of 'rock, paper, scissors' to determine the line-up live on the night. Not only does this keep the crew on their toes, but it encourages patrons to experience the entire line-up and discover new bands, rather than just seeing their local favourites.

Thanks to the support of the Music Development Office, the One12 Festival allows local artists to get back on stage to showcase their talent and grow their following, provides a great night out for patrons who have been missing the thriving live-music scene in Adelaide and helps Thebby get back on her feet in an uncertain time of live entertainment.
THE LINE UP
One12 Festival #1 I Friday 4 June 2021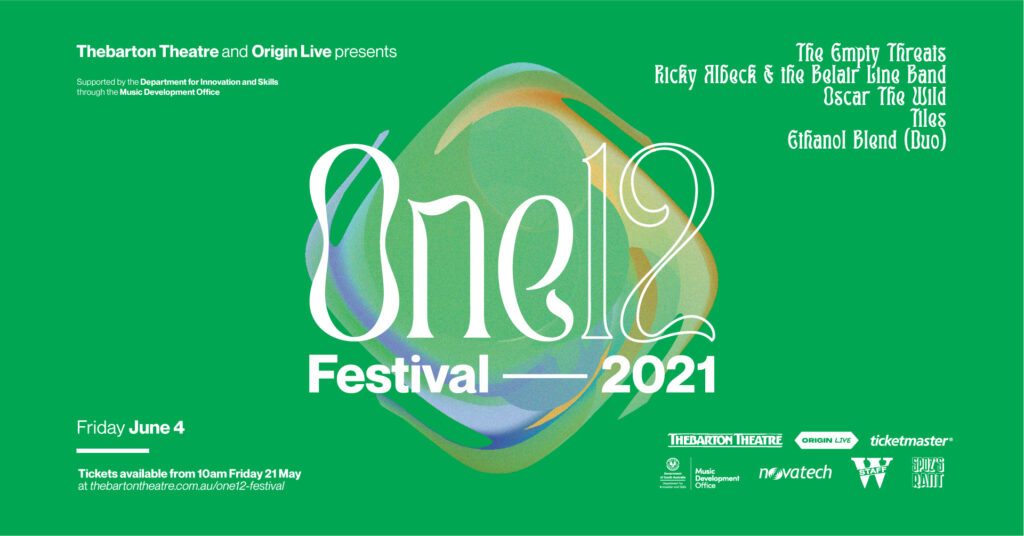 The One12 Festival program kicks off on Friday 4 June featuring:
The Empty Threats
Oscar the Wild
Ricky Albeck & The Belair Line Band
Ethanol Blend Duo
Tiles
Bringing you a mix of folk, indie pop and rock, this incredible line up will have you grooving and falling in love with these locals.
New date to be announced soon.
Purchased tickets are valid for the postponed date.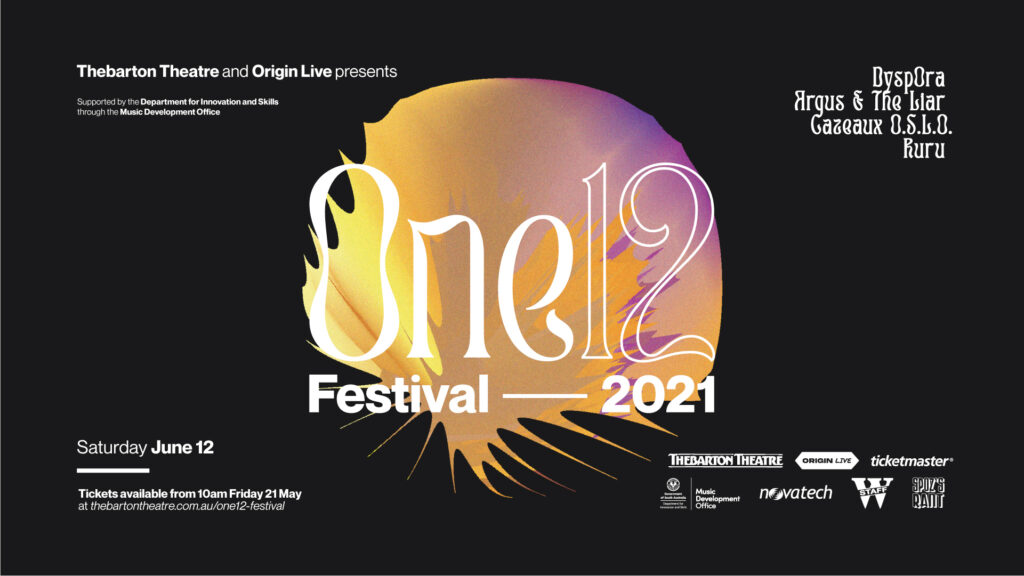 Join us for a night of indie hip-hop featuring
DyspOra
Argus & The Liar
Cazeauz O.S.L.O
Ruru
One12 Festival #3 I Friday 18 June 2021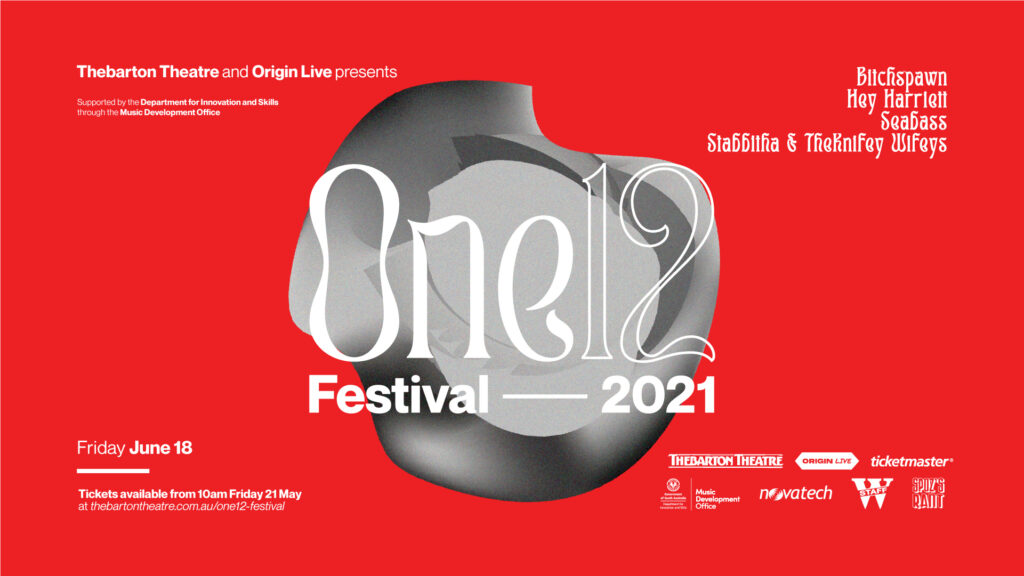 In a world-first, 4 bands will rock, paper, scissors live on the stage to determine the playing order. Those getting ready to draw include the indie, folk, punk sounds include:
Seabass
Hey Harriett
Stabbitha & The Knifey Wifeys
Bitchspawn

You'll want to hear them all, but in which order?
One12 Festival #4 I Friday 25 June 2021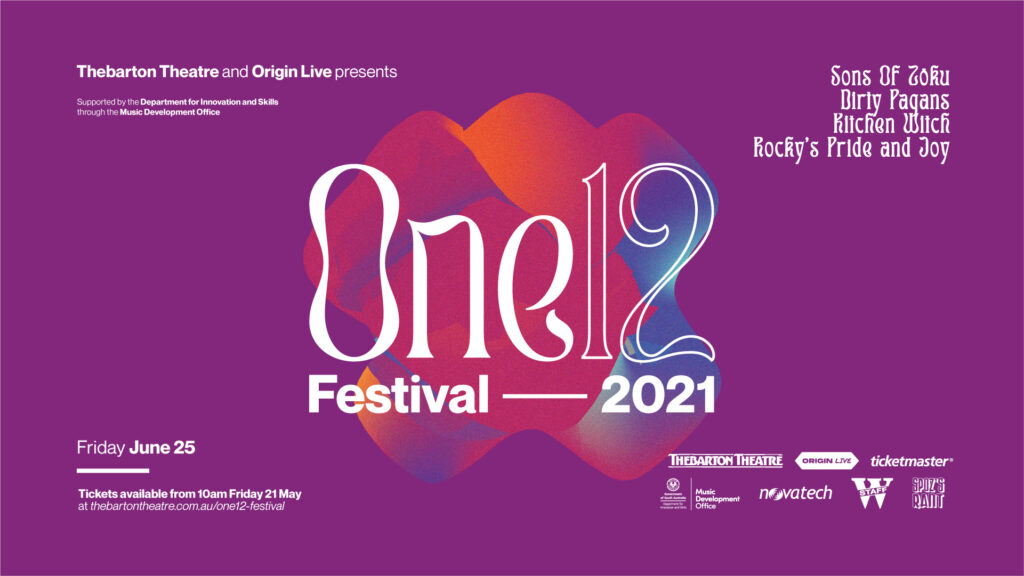 Warm up a cold Friday night in June with the psychedelic, metal and rock sounds of
Sons of Zoku
Rocky's Pride & Joy
Kitchen Witch
Dirty Pagans.
One12 Festival #5 I Saturday 26 June 2021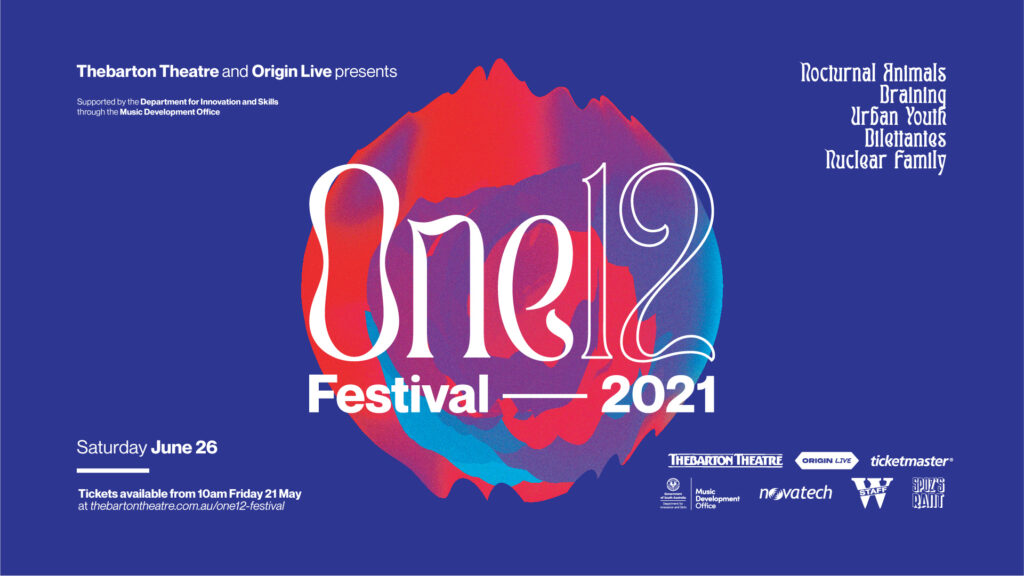 Finishing our program with a night of indie, rock and punk vibes from:
Nocturnal Animals
Draining
Urban Youth
Dilettantes
Nuclear Family
Covid Safe Practices at Thebby Local
◽️ UNALLOCATED SEATING: patrons must remain seated in their seat for the duration of the event unless using the venue facilities e.g. bar, toilets. Seating will be in checkerboard format where the seat in front, behind and beside has been left empty to maintain social distancing.
◽️ SOCIAL GROUPS: Patrons are requested to arrive and depart in their social groups where possible.
◽️ CLOAKROOM UNAVAILABLE. Bags larger than A3 and backpacks will not be admitted into the venue
◽️ NO PASSOUTS under any circumstances
◽️CHECK IN Thebarton Theatre has an issued COVID-19 QR code for its location. Each person visiting the venue must check-in using the QR Code via the mySA GOV App or paper attendance record regardless of relation. Each patron is asked to display the 'Last Check In' screen upon entry, or sign the paper-based register.

Please see our Terms & Conditions of Entry before attending Thebarton Theatre.
EVENT INFO
Friday 4 – Saturday 26 June 2021
Doors 7pm
Show 8pm
Children's Policy
This event is all ages. It is recommended that patrons 15 years of age and under are accompanied by a paying Adult.
Wheelchair/Accessible Seating/Companion Card
For all enquiries please contact the Box Office on
Ph. (08) 8443 5255.
OFFICIAL TICKETS SOLD THROUGH TICKETMASTER ONLY